Your face suffers a lot every day after coming in contact with cosmetics, impurities, and dirt. A regular wash won't help your skin get rid of the build-up that irritates it. If you keep leaving your skin this way, it ages more rapidly, and you look dull and tired. In this case, a good drugstore makeup remover helps you remove makeup easily without stealing your skin's natural moisture. Using makeup remover every day is the best skin routine ritual and the secret to naturally beautiful skin. In this article, we have brought you the best drugstore makeup removers that are free from harsh ingredients, suit all skin types, and keep your skin looking healthy and fresh.
The Importance Of Makeup Remover
Removing your makeup is a necessary step for your skin to breathe. If you think a cleanser does the same thing, then you are wrong. A cleanser removes the dirt and pollutants accumulated in the pores, while makeup remover cleans the upper layer of skin on which makeup is applied. Using a makeup remover is important as it prevents clogging of the pores, giving you a healthy complexion. Makeup removers remove stubborn mascara, false eyelash glue, waterproof lipstick, and foundation.
Listed below are the best makeup removers handpicked for you. Scroll down to upgrade your skin care routine!
15 Best Drugstore Makeup Removers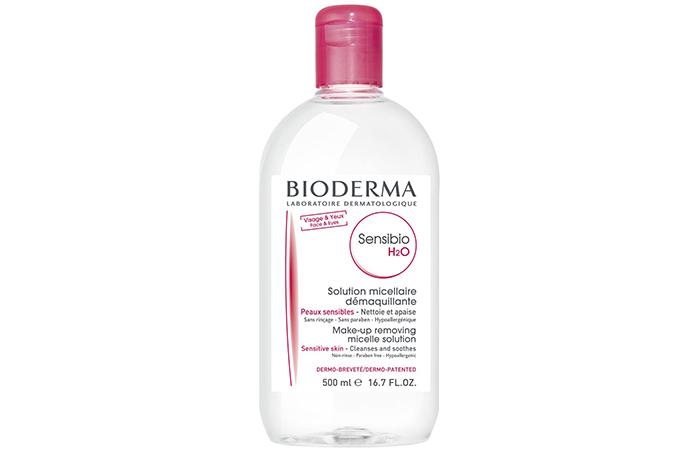 Bioderma Sensible H20 Micellar Water Makeup Remover is the perfect solution for sensitive skin. It has a dermatologically advanced formula similar to the molecules naturally found in your skin to cleanse makeup, heavy metals, and fine particles. It features a DAF-patented natural complex and fatty acid ester micelles that increase your skin's tolerance and cleanse without drying it out. In addition, it contains cucumber fruit extract that refreshes your skin while its soothing fragrance awakens the senses. It has a sensible H2O compound that respects your skin's fragility and hydrolipidic film. Pour a little of this product on a cotton pad and wipe your face to get clear, healthy skin.
Key Ingredients: Micellar water and Cucumber extract
Pros
Ideal for sensitive skin
Dermatologically approved
Non-rinsing formula
Non-drying
Non-irritating
Alcohol-free
Oil-free
Paraben-free
Cons
None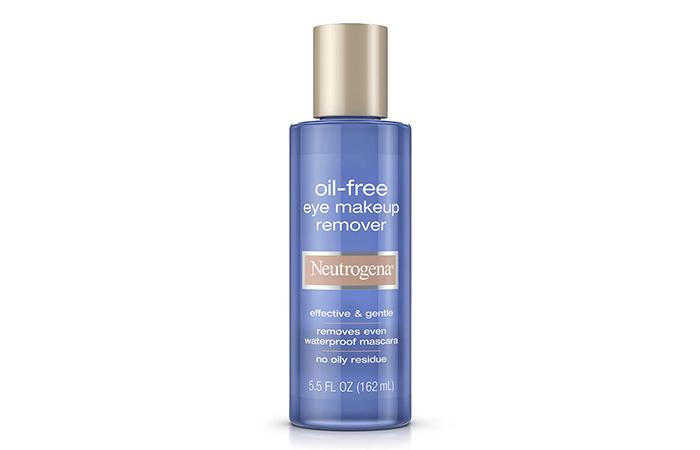 The dermatologically-tested Neutrogena Oil-Free Eye Makeup Remover has a gentle formula that does not require pulling or tugging to work. Its dual-phase formula helps remove stubborn waterproof eye makeup like liner, eyeshadow, and mascara effortlessly. The product contains aloe and cucumber extracts that soothe and nourish your skin with their antioxidant properties, giving you a refreshing feel. Its lightweight and non-sticky formula is ophthalmologist-tested and safe for sensitive eyes and contact lens-wearers.
Key Ingredients: Aloe vera and Cucumber
Pros
Lightweight
Oil-free
Non-sticky
Dermatologically tested
Ophthalmologist-tested
Suitable for sensitive skin
Safe for contact lens-wearers
Cons
Feels greasy if not rinsed off with warm water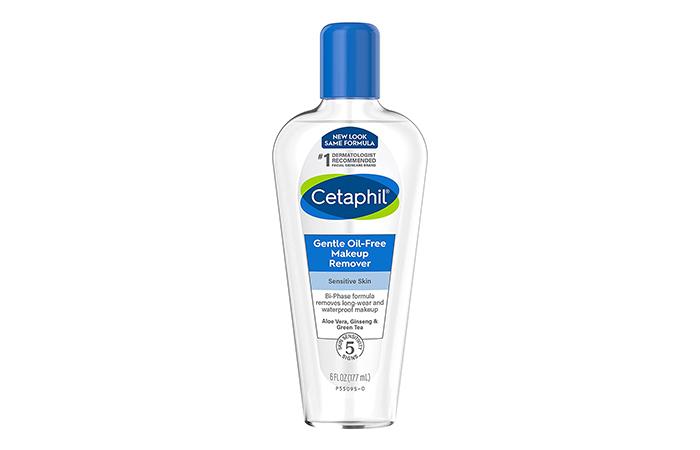 Cetaphil Gentle Oil-Free Makeup Remover is infused with a bi-phase formula to remove stubborn waterproof makeup from delicate areas. It is enriched with the antioxidant properties of aloe vera and green tea that moisturize your skin for a glowing and healthy complexion. It also contains ginseng that has bioactive compounds to boost blood circulation for firmer skin. Its gentle and non-comedogenic formula does not block skin pores and makes it ideal for sensitive skin.
Key Ingredients: Aloe vera, Ginseng, and Green tea
Pros
Hypoallergenic
Non-comedogenic
Fragrance-free
Non-greasy
Dermatologically tested
Ophthalmologist-tested
Non-irritating
Cons
None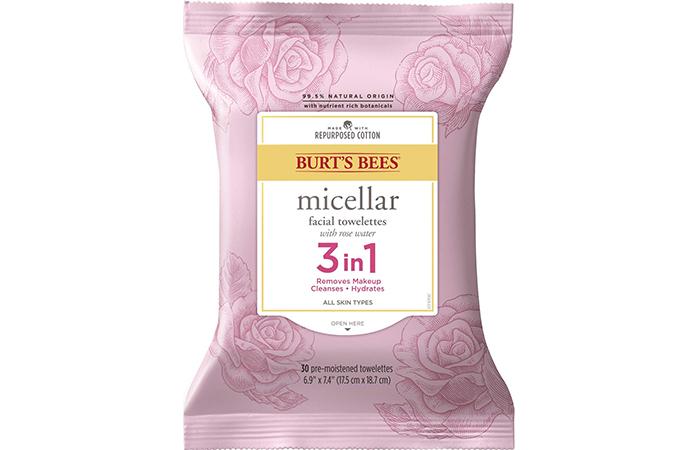 The natural Burt's Bees Micellar Facial Towelettes gives a fresh makeup-free look to all skin types. It is easy to use and wipes off makeup without leaving any residue. These wipes are made up of 60% repurposed cotton and rose extracts that hydrate and soothe your skin. The pack has a resealable closure to lock in moisture and keep them fresh. These are the best disposable makeup remover wipes that are perfect to carry for travel, work, or gym.
Key Ingredients: Micellar water and Rose water
Pros
Travel-friendly
Dermatologically-tested
Ophthalmologist-tested
Fragrance-free
Paraben-free
Petrolatum-free
Phthalate-free
Cons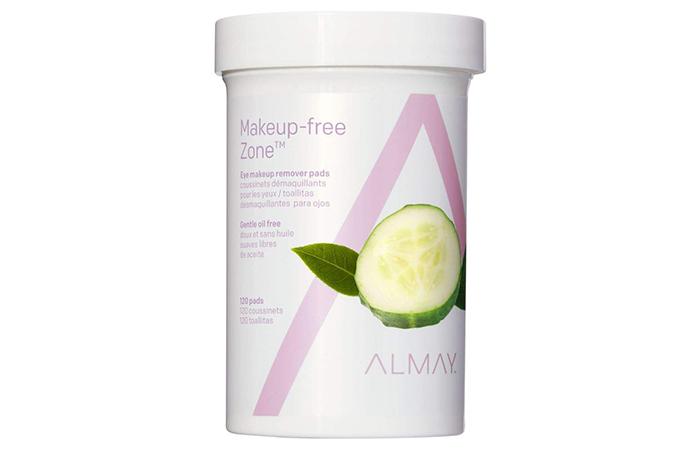 The gentle Almay Makeup-Free Zone is enriched with ingredients like green tea, aloe vera, and cucumber to hydrate and nourish the skin deeply. Its botanical blend of natural ingredients wipes off waterproof makeup around the sensitive area of your eyes without tugging. The pack comes with 120 white pre-moistened towelettes that contain moisturizing ingredients. It is dermatologically tested and non-comedogenic to suit all skin types.
Key Ingredients: Green Tea, Aloe vera, and Cucumber
Pros
Dermatologically tested
Ophthalmologic-tested
Non-comedogenic
Soothing
Hypoallergenic
Waterproof
Oil-free
Fragrance-free
Cruelty-free
Cons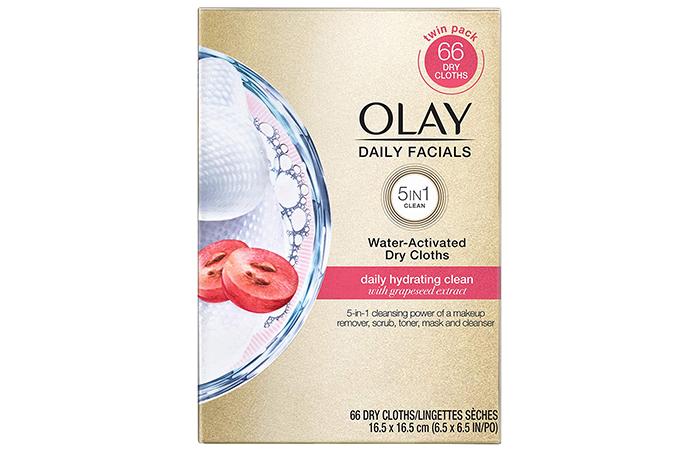 The Olay Daily Facial Wipes are velvety soft cleansing dry clothes that get activated with water. These wipes are enriched with salicylic acid, grape seed extract, and glycerin for their replenishing, cleansing, and hydrating properties. It leaves your skin fresh and fragrant. These facial wipes are multipurpose and can be used for cleansing, removing makeup, toning, scrubbing, and as a cool mask!
Key Ingredients: Grapeseed extract and Glycerin
Pros
Soap-free
Travel-friendly
Versatile
Cons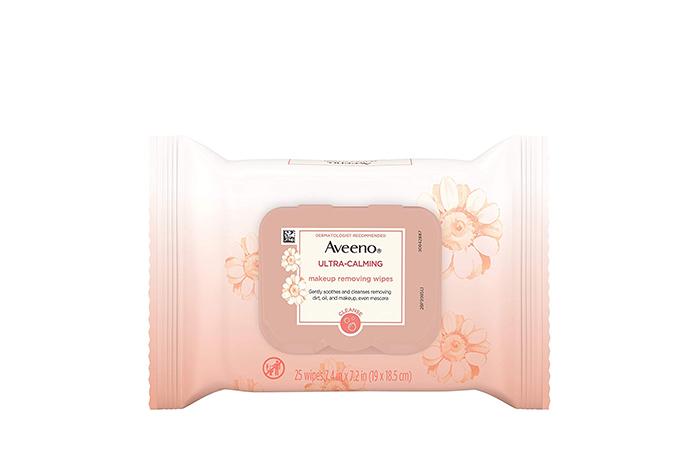 The ophthalmologist-tested Aveeno Ultra-Calming Makeup Removing Wipes cleanse dirt, oil, bacteria, and even the toughest mascara easily. These wipes are infused with the anti-inflammatory benefits of feverfew extracts to improve and nourish skin texture. It also contains glycerin, cucumber extract, and aloe vera to give you soft, hydrated, and healthy skin. These wipes are kind to your skin as they don't contain harsh irritants that damage skin cells, making them ideal for sensitive skin.
Key Ingredients: Feverfew extract
Pros
Clinically tested
Reduces inflammation
Ideal for contact lens-wearers
Oil-free
Non-comedogenic
Mild fragrance
Cons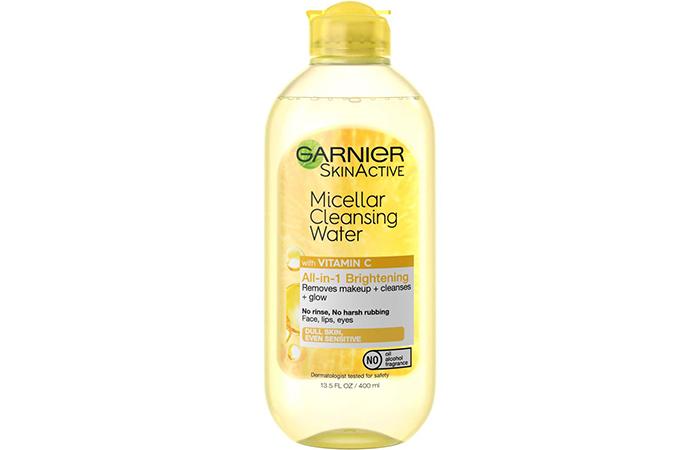 Garnier Skin Active Micellar Cleansing Water removes makeup, cleanses dirt, brightens your skin, and gives a natural glow without leaving a greasy residue. It is enriched with vitamin C to brighten your skin tone. It also improves collagen production to tighten your skin and diminish fine lines. In addition, it cleanses and moisturizes your skin without being harsh, making it suitable for regular use.
Key Ingredients: Micellar water and Vitamin C
Pros
Non-drying
Mild fragrance
Alcohol-free
Mineral oil-free
Fragrance-free
Vegan
Cruelty-free
Cons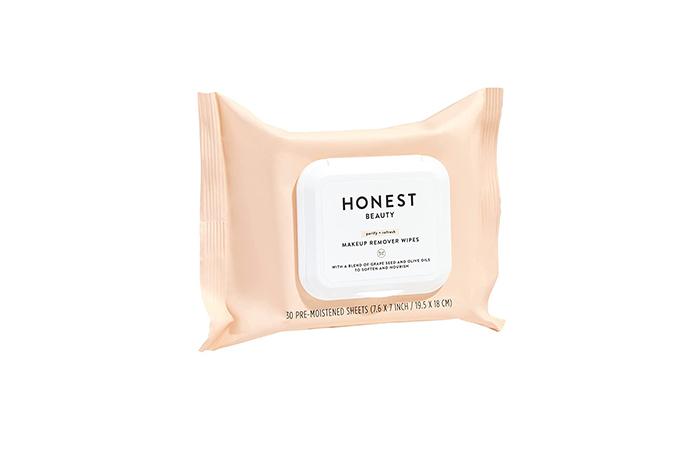 The dermatologically-tested Honest Beauty Makeup Remover Wipes are pre-moistened sheets that nourish, purify, refresh, and soften your skin. It contains a blend of grape seed and olive oils to gently remove makeup, cleanse skin without clogging pores, and hydrate deeply without being greasy. It is free from parabens, phthalates, silicones, and synthetic fragrances, making it safe to use regularly on sensitive skin.
Key Ingredients: Grapeseed extract and Olive oil
Pros
Unclogs pores
Moisturizes the skin
Biodegradable
Cruelty-free
Silicone-free
Phthalate-free
Fragrance-free
Paraben-free
Cons
Simple Kind To Skin Micellar Cleansing Wipes goes gentle on the skin but very tough on makeup and impurities. It quickly removes the most stubborn waterproof makeup without drying out your skin. It is enriched with vitamins B3 and E combined with micellar water. It hydrates and brightens your skin instantly while restoring its lost moisture. It also smoothens your skin texture and calms irritation. These wipes are made from renewable plant fibers and wood pulp, making them soft and compostable in nature. In addition, it is free of harmful chemical that can irritate your skin.
Key Ingredients: Micellar water, Vitamin B3, and Vitamin E
Pros
Dermatologically tested
Non-comedogenic
Hypoallergenic
Cruelty-free
Alcohol-free
Paraben-free
Fragrance-free
Cons
May feel scratchy on the skin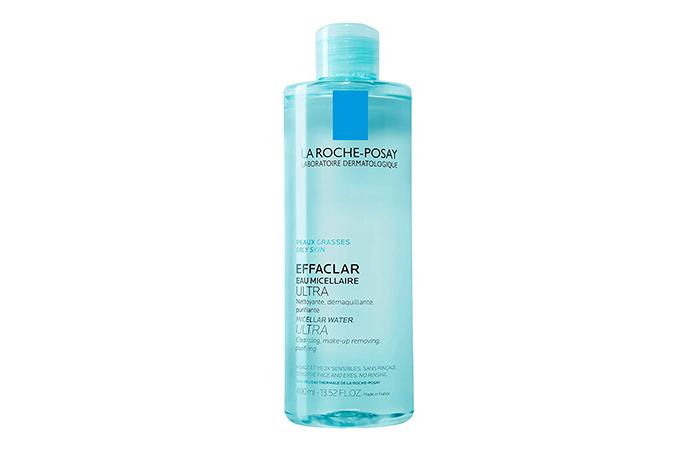 If you have oily and acne-prone skin, you need a makeup remover that extracts oil and dirt from the pores. La Roche-Posay Micellar Water gently cleanses dirt, oil, makeup, and pollution particles from your skin. It is formulated with antioxidant-rich thermal spring water and glycerin that moisturize your skin without being greasy. In addition, it has zinc that purifies and refreshes your skin to remove excess oil and lubricating poloxamer for cleansing. It is also dermatologist- and ophthalmologist-tested, making it suitable for sensitive skin and eyes.
Key Ingredients: Zinc, Glycerin, and Thermal water
Pros
Suitable for acne-prone skin
Non-greasy
Non-comedogenic
Paraben-free
Alcohol-free
Soap-free
Cons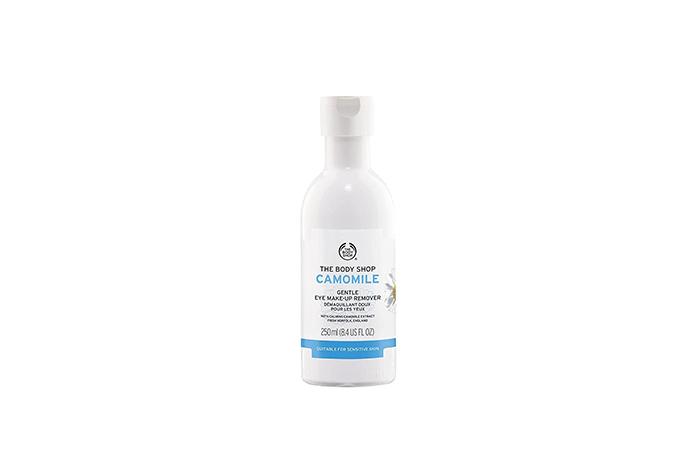 If you want to remove heavy eyeshadow or waterproof mascara, The Body Shop Camomile Gentle Eye Makeup Remover is a perfect choice. It is enriched with chamomile extracts with anti-inflammatory properties to soothe your skin and condition the delicate eye area. In addition, this remover is mild on the skin and has a water-based formula.
Key Ingredient: Chamomile extract
Pros
Oil-free
Just a little product required per use
Paraben-free
Gluten-free
Silicon-free
Vegan
Cons
Leaves a soapy residue
Contains SLS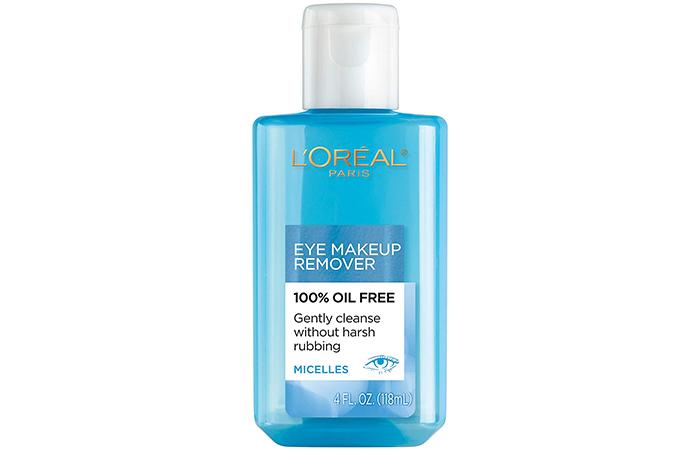 L'Oréal Paris Eye Makeup Remover offers skin-friendly makeup removal without being sticky and greasy. The product is suitable for all skin types and sensitive areas like the area around the eyes. It is infused with water and glycerin to hydrate your skin. Apply this cleanser using a cotton pad and leave it on your skin for the makeup to come off without rubbing.
Key Ingredient: Glycerin
Pros
Oil-free
Dermatologist-tested
Ophthalmologist-tested
Safe for contact lens-wearers
Cons
Does not remove waterproof mascara
Contains SLS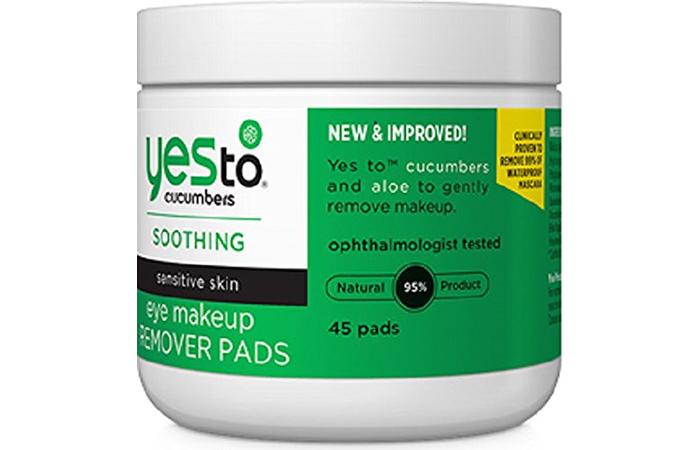 Nothing can beat Yes To Cucumber Eye Makeup Remover Pads if you want to cleanse your eyes without chemicals. These pre-moistened pads are infused with natural ingredients like chamomile, cucumber, and aloe vera to soothe your skin while gently removing impurities and makeup build-up around the eyes. These wipes are kind to your skin as they do not contain harsh irritants. Each pack comes with 45 pads that stay fresh and moist for longer.
Key Ingredients: Calendula, Chamomile, and Organic Cucumbers
Pros
Ophthalmologist-tested
Dermatologist tested
95% natural ingredients
Hypoallergenic
Safe for contact lens-wearers
Lightweight
Paraben-free
SLS-free
Silicone-free
Cruelty-free
Cons
Might cause a burning sensation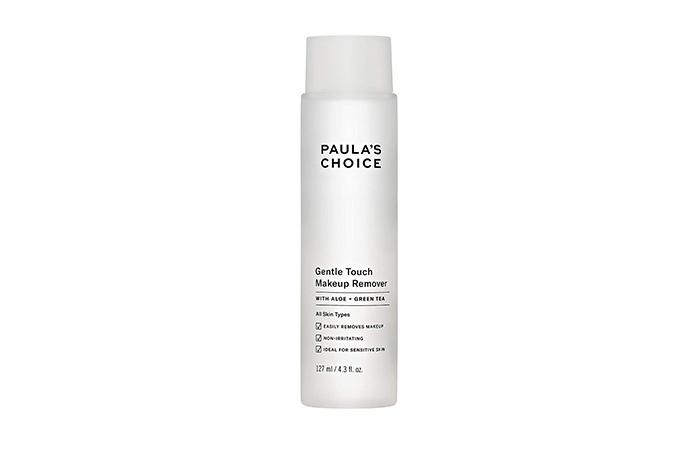 Paula's Choice Gentle Touch Makeup Remover is a dual-phase solution that quickly removes waterproof and stubborn makeup like long-wearing foundation, lipstick, and lip stains without leaving a greasy residue. Its water-based formula is suitable for all skin types. It is enriched with antioxidants like aloe vera and green tea to soothe and hydrate your skin, while glycerin restores the moisture to give you an instantly clean and natural look.
Key Ingredients: Aloe vera and Green Tea
Pros
Soothing
Non-irritating
Removes waterproof makeup
Paraben-free
Fragrance-free
Cruelty-free
Cons
Expensive
Requires extra effort to remove mascara
Choosing the right kind of drugstore makeup remover that suits your skin type is easy if you evaluate certain factors before buying one. Learn what to look out for in a makeup remover in the next section.
How To Choose A Drugstore Makeup Remover According To Your Skin Type
If you have oily skin, you need a makeup remover containing salicylic acid or benzoyl peroxide. This is because both the ingredients suck up the excess oil while removing your makeup. If you want to use micellar water, go for an oil-free one.
The chemicals in a makeup remover break down the molecules of makeup along with the natural moisture of your skin. To avoid this, you need to use a cream- or foam-based cleanser as they restore the moisture. You can also opt for oil-based cleansers as their ingredients provide natural oil to the skin. Makeup removers containing coconut oil, olive oil, or some other oil are good for dry skin.
Ingredients like artificial fragrance, alcohol, and parabens are harsh on sensitive skin. If your skin is prone to redness, go for soap-free and fragrance-free products. The more natural the ingredients, the better.
You to remove makeup properly to keep your pores clean and let your skin breathe. Clean skin and unclogged pores help in restoring your skin's health and preventing aging and dullness. So, choose a good drugstore makeup remover according to your skin to preserve its youth and freshness.
Frequently Asked Questions
Are drugstore makeup removers good for your skin?
Drugstore makeup removers are good for your skin as they contain safe ingredients that ophthalmologists and dermatologists have tested. They can remove all kinds of makeup without ripping away the natural moisture of the skin.
What is the most effective drugstore eye makeup remover?
The most effective drugstore eye makeup remover is La Roche-Posay Effaclar Micellar Cleansing Water & Makeup Remover. It can remove the toughest eye makeup and stubborn glued eyelashes within seconds. It is free from parabens or alcohol and contains thermal spring water, glycerin, and zinc that can pull away invisible debris.
What can I use instead of drugstore makeup wipes?
You can use micellar water or a cream cleanser instead of drugstore makeup wipes.
Why are drugstore makeup wipes bad?
Make-up wipes contain harsh and harmful chemicals that disturb the pH balance of the skin. They disturb the skin's acid mantle, which works as a protective layer to keep dirt and impurities away and locks in natural oils.
Can you use baby wipes to remove makeup?
Baby wipes don't remove makeup as they cannot break down complicated waxes or oils present in makeup. If you use baby wipes, you risk leaving a lot of makeup and debris on your skin.
Is micellar water good for acne?
Dermatologists recommend micellar water for acne-prone skin. Micellar water contains specific ingredients that remove oil, makeup, and debris from your skin without causing breakouts.
The post 15 Best Drugstore Makeup Removers For All Skin Types – 2021 appeared first on STYLECRAZE.