Interior decor has come a long way, from rugs resembling animal fur and gigantic television units with storage spaces. With millennials testing the waters of the "aesthetic" and Gen Z roping it in further, home decor has become more about reflecting individuality and personal taste. Focusing on the vibe of the place has preceded the need to transform it into a smorgasbord of showpieces. Instead the current trend inclines heavily towards minimalist decor with a pop of color—a simple way of reflecting personality through a presentation.
While looking at the recent home decor trends and comparing them with the older styles, we found a trend slowly rising to take the decor universe by storm. The aesthetically pleasing fusion of functional pieces with traditional designs is making its way into most homes, and we are here for it! From a dash of vivid yellow on a plain brown couch to a dab of glittery blue in a sea of white, the chic contrast can spruce up a place effortlessly. So, if you're wondering where to start, we have brought you a list of ways to transform your home into an aesthetically pleasing, inviting space.
Start With Your Living Room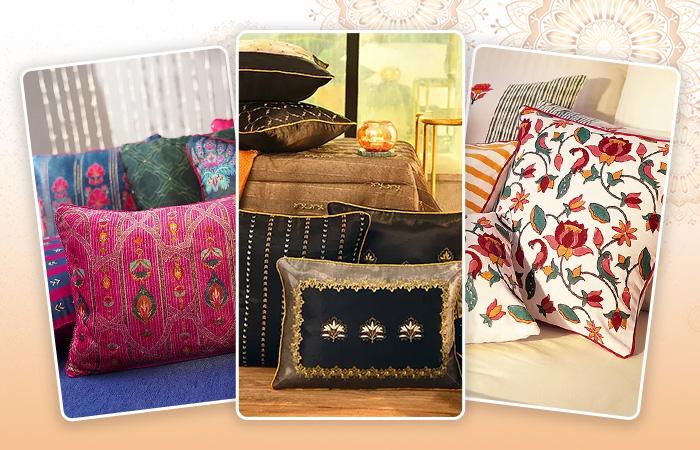 The living room is usually the first space a person sees when they visit you, and who doesn't want to make a lasting impression with a style that catches the eye? If muted colors cover the walls of the room, add a dash of fuchsia with the gorgeous pink velvet printed cushion cover by Jaypore. If you are not fond of bright hues, you may opt for the subtle white hand-block printed cotton cushion cover draped in crimson and viridian florals.
Wondering which one to choose if the walls are covered in vibrant colors? Neither, because when bright meets bright, a discordance of colors ensues. What you are looking for is the regal Bidri-inspired embroidered Mashru cushion cover. The midnight black cover is bound to be the showstopper, and the stylized silver motifs deserve no less. You may add a piece of trivia on how Bidri is a delightful legacy craft with roots in Persia. Slip in the fact that the rich art pieces are made with a blackened alloy of copper and zinc inlaid with thin sheets of pure silver, and bask in the glory of having charmed your audience.
Spruce Up Your Kitchenware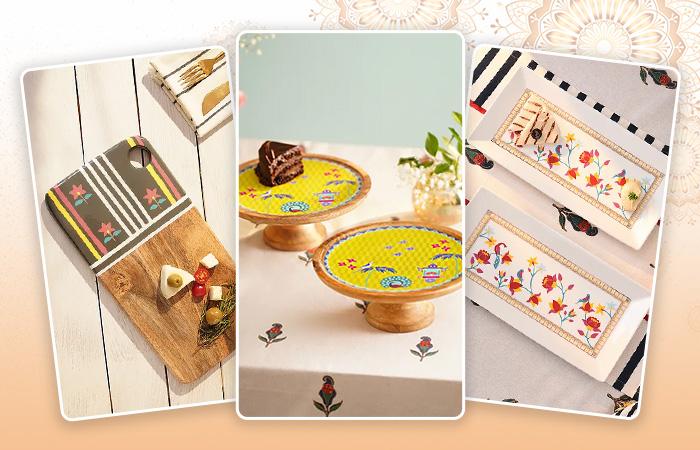 While your guests are still mesmerized by the captivating living room decor, it's time for some food. Why reach for the mundane everyday utensils when we have some stunning aesthetic pieces right here? Take a look at the Handcrafted Porcelain Paithan Serving Platter, which is bound to capture your guests' attention. The bold, lustrous motifs laced with 24K gold detailing are breathtaking. The intricate gold fringes also find expression in the Handcrafted Porcelain Paithan Quarter Plate, ideal for serving snacks and finger foods. If you prefer a more elegant look, you cannot go wrong with the sturdy HandpaintedWooden Serving Platter. The linear floral patterns add a spin to the polished wooden base and serve as a treat to the eyes.
For the ones who love baking, curating eye-catching food art, or displaying food in style, Jaypore has carefully captured the yellow of the sun and poured it over a wooden base. Nothing can make the chocolaty sienna or the citrusy vermillion of your food pop more than the Ganjifa Inspired Decal Wooden Cake Stand—a statement piece peppered with vibrant, eclectic motifs.
Some Love For Your Favorite Nook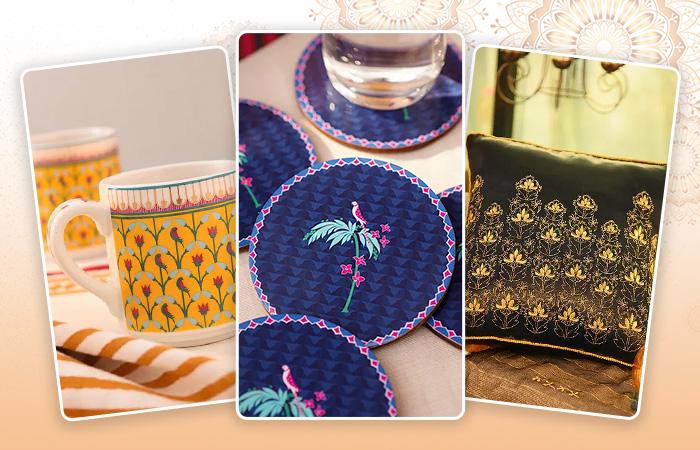 While we are on the subject of aesthetic vibes and cozy personal spaces, let's add a few elements to those corners that you often retreat to. For instance, you may enhance the soothing aura of your reading nook with sheer tapestry or crochet curtains in the background. If you want the corner to resemble something straight out of Pinterest, we wouldn't be against adding a string of fairy lights to illuminate the room with a warm glow. Add a comfortable reclining chair with a cushion, and let the rich black and gold of the Bidri Inspired Embroidered Mashru Cushion Cover complement the space.
If you are not much of a reader, you can still curate a snug nook to unwind after a tiring day with some heartwarming shows or murder mysteries—whichever helps you relax. Add to it a steaming cup of beverage, and the bliss is unmatched. We cannot help but marvel at the beauty of the Handcrafted Porcelain Paithan Coffee Mug. The royal, kaleidoscopic pattern detailed with 24K gold is the perfect addition to the decor. It's all about the aesthetics (and, of course, the fact that it can hold more coffee than standard-sized cups).
If you tend to leave your mugs everywhere and come back to a stubborn stain on the table, bedsheet, or chair, we suggest you use the Ganjifa Inspired Blue Coasters to keep your surfaces clean while earning brownie points for your outstanding taste in home decor.
One needn't turn the whole house upside down to achieve an aesthetically pleasing appearance. Small changes can transform brick-and-mortar into a graceful, inviting space, and as the Fairy Godmother once transformed Cinderella from rags to riches with the flick of a wand, your abode can turn from basic to chic with these lavish and elegant pieces from Jaypore.
The post Easy Ways To Add A Traditional Touch To Modern Homes appeared first on STYLECRAZE.